https://curtainrodclub.com/wp-content/uploads/2020/06/21233345/Wood-Trends-Finials.jpg
336
368
Taylor, Courtney, Jeff
https://curtainrodclub.com/wp-content/uploads/2023/01/29182157/curtainrodclub-300x103.png
Taylor, Courtney, Jeff
2020-06-14 23:29:47
2020-06-14 23:31:43
Kirsch New Wood Trends Finials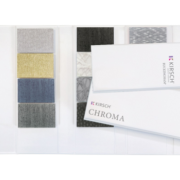 New Kirsch® Buckingham® and Varia Portfolios
Kirsch is excited to announce the arrival of the new Buckingham and Varia Portfolios. These two new portfolios offer a wide array of colors and textures. The Buckingham portfolio features all fifteen colors in the collection which includes six new colors; Camden, Castle Rock, Distressed Oak, Moonglow, Sterling and Winterwood. Ranging from warm tones of brown to soft whites there is something for everyone's taste. All colors are available for all Buckingham products from finials to Estate™ Traverse Rods. The Varia portfolio is another new, stylish fascia for the Estate Traverse Rods. The offering consists of twelve new colors and patterns to bring modernity to any home décor through traversing drapery rods. This eclectic range of patterns is contemporary and clean. We know you will enjoy the new, exciting updates to these collections. For more information on the collections as well as ordering forms, please visit kirsch.com/drapery-hardware-home.
https://curtainrodclub.com/wp-content/uploads/2020/06/21233345/Kirsch-June.png
350
580
Taylor, Courtney, Jeff
https://curtainrodclub.com/wp-content/uploads/2023/01/29182157/curtainrodclub-300x103.png
Taylor, Courtney, Jeff
2020-06-14 23:00:39
2020-06-14 23:10:06
Kirsch Courier June 2020
Opening Hours:
Mon-Fri: 10:00-4:30
Sat: closed
Sun: closed
Online Store
New York, NY
info@curtainrodclub.com
847-386-7778
Use the "Contact" form if you have questions or need information. Use the "Request for Special Quote" for all custom orders.